Blithering Idiot Symposium Tonight! Bring your friends and Neighbors.
Brief History in 1 line or less.
I have a Thursday class on Biz Process Reengineering. It's not fun. I have a lot of work to do for it.
Whilst in research for postal service reengineering information and notable quotables, I ran across
"TREASURY SECRETARY PAUL H. O'NEILLTESTIMONY BEFORE THE HOUSE APPROPRIATIONS COMMITTEE SUBCOMMITTEE ON TREASURY, POSTAL SERVICE AND GENERAL
GOVERNMENT"
In his testimony before the committee, he mentioned the Postal service ZERO times.
Note to self... Cross of Paul O'Neil as a good reference on the Postal Service.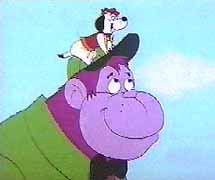 Rather than do more research tonight, I will try to find a page for each of the top 5 of my favorite cartoon characters from Saturday morning TV when I was a youngin.
1.
Grape Ape
(don't know why he was a favorite, but I always needed grape kool-aid when I watched the show)
2.
Hong-Kong Phooey
Scatman Crothers as a super-hero kung-foo fightin' dog! This show was funny man!
3.
Rocky and Bullwinkle
(and that dumb-ass Canadian Mountie) Rock on stupid moose!
4.
Captain Caveman
Loved the band and all the crap he could pull out of his ass (and other assorted places on his body)
5.
Scooby Doo and the gang
(Especially Shaggy)
[Hey, List your top 5 for extra special Honors and prizes]
Well, I thing that's all tonight, I'm going to write some more on the old paper and fall asleep.