Didn't see the Doc about the toes...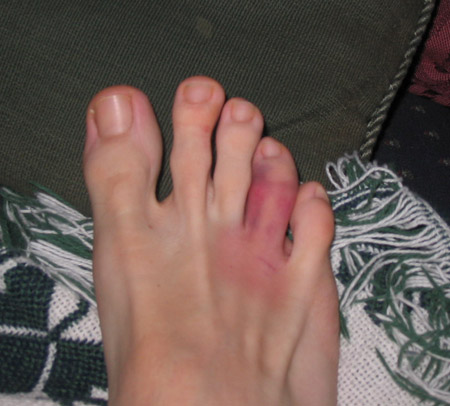 Because I didn't want to be a little girl about my toes and since I eventually was again able to walk (on my heel, mostly) I decided, last night, to wait 'till today before I went for x-rays. I don't need no stinkin' doctor to tell me a purple toe isn't normal, but I know that there's nothing he can do for a little boo-boo like that except tape it to it's neighbor. The picture over there ---> isn't my foot, but it looks much like that.
Enough about that... I am sitting here watching a good Michigan vs Michigan State football game. At the half, Michigan is leading 24-21. They should be leading by more but they took part of the second quarter off. Later this evening I'm going bowling, if you live in the area you should join our league, we need 2 teams of 4 still and you've only missed 2 weeks. We bowl every other week at Fountainview at 6pm. Just show up, it's mixed league 2 men and 2 women per team, and it's just for fun.
I had to shower. Now I'm dressed. Later I will look for something to talk about that might be interesting.
Sparty on!